Zurich General Insurance Malaysia Bhd chief underwriting officer Hazruddin Hassan says such a mishap is not implausible, based on his first-hand experience. "It cost me around RM35,000 for repairs and new fittings, but I was relieved that the repair cost was covered by my fire and house owner insurance policy," he recounts.
Many Malaysians tend to regard natural calamities to be unlikely in a country with few natural disasters, thereby falling into complacency and neglecting the importance of getting an insurance policy for their properties and belongings.
"Calamities don't happen every day or to everyone, but it can happen to you. It is a painful experience. However, if you have insured your property adequately, it could lessen the pain, at least financially," he tells EdgeProp.my.
Although the insurance policy coverage may not be able to fully compensate the losses, it could help rebuild your home, offers Zurich General Insurance Malaysia senior vice-president and head of market management Junior Cho.
"In Malaysia, most individuals understand the value and importance of a house owner and fire insurance, but not many will take the initiative to purchase the insurance or to renew it regularly," he points out.
Cho estimates that the penetration level for the house holder and fire insurance policies, excluding those that are required to be purchased by lending banks, is only less than 10%.
According to Hazruddin, based on total insurance claims last year, the top five causes for loss are due to lightning, windstorm, fire, floods and burst water pipes. These five make up for around 80% of the total claims in the house owner, house holder and fire insurance segment.
Coverage for strata buildings
Besides individual homeowners, the management of strata buildings such as the joint management body (JMB) of a condominium is usually aware of the importance of purchasing insurance for a building.
Cho reveals that most of the claims from building owners are for losses caused by fire, especially to common areas and facilities such as fire control panels, lifts and guard houses.
"Many people think floods only happen on the ground level, but in high-rise buildings, flooding can be caused by unexpected incidents.
"For instance, if water outlet pipes on the rooftop are blocked, water may flood the area and the floor-ceiling may collapse when rainwater overflows," explains Hazruddin.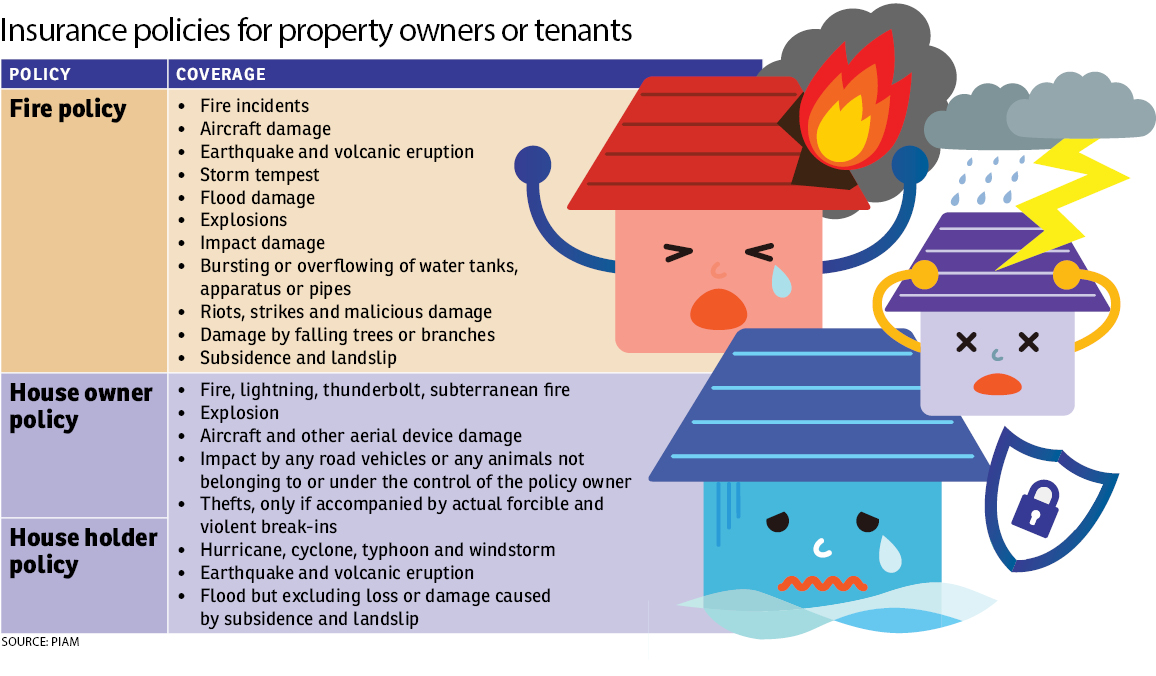 It should be noted that property insurance policies purchased by JMBs mainly cover the building and common areas. For individual owners, it is advisable for them to purchase a policy to protect their individual assets.
In the coming weeks, Zurich Malaysia will unveil a new product called Property Plus, an insurance product targeting commercial properties such as Small-office Home-office units, apartments, condominiums, offices and hotels.
For small and medium business owners, Zurich Malaysia has also introduced the Z Fire Essential policy in 4Q17, which offers detariffed rates for fire coverage for a property, including building, plant and machinery, stock-in-trade, furniture, fixture and fittings. It also allows property owners to extend their policy to cover terrorism for a minimal charge.
Sum insured may not reflect the current value
Some lending banks require borrowers to purchase the fire insurance but as time passes, the sum insured in the early years may not be adequate for the current value of the property.
This means that in the event of a loss or damage, there may not be enough compensation to fund repair works.
Cho estimates that the value of a property changes every 10 years, by an increase of about 30% to 50% depending on its location.
Hence, house owners should review and renew the insured sum of a policy every five to 10 years, as there tends to be a gap between the sum insured and the current building value, he advises. House owners should also take into account renovations and enhancements they have made to the house over the years.
Furthermore, more often than not, the coverage arranged by the lending bank is based on the loan amount, which means compensation may not be sufficient to cover the cost of rebuilding the property in the event of loss or damage.
Individual policies
According to the General Insurance Association of Malaysia (PIAM), there are generally three types of insurance that individual homeowners can purchase to protect their homes and personal assets from losses, namely the basic fire policy, the house owner policy and the house holder policy.
The fire policy offers coverage only for the building and covers loss or damage caused by various types of accidents including fire and lightning.
The house owner policy provides more coverage than the fire policy — for residential properties such as landed houses, condominiums, apartments and flats.
As for the house holder policy, it covers the household contents including coverage for fatal injury to the policy owner if the injury happens at home.
Hazruddin says these three policies could be purchased individually or as a combined package at an affordable annual premium.
"Even for people who are renting houses, they should consider getting an insurance to protect their personal belongings, as the insurance owned by the landlord may not cover the contents owned by tenants," he adds.
According to PIAM's general reference guidelines, for properties with built-ups of 1,000 sq ft, the sum insured is around RM30,000, which translates into an annual premium ranging from a few hundred ringgit to over RM1,000, depending on the declared items under the policy.
SOURCE: EDGEPROP